Metso Lindemann Shear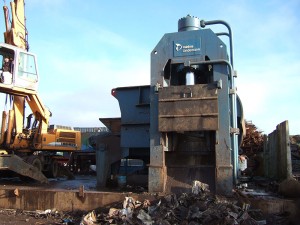 Over the years Miceal Haughey the company director has invested in various plant and machinery brands.  After many years of operations we have concluded that for dependability, reliability and economy German recycling machinery and technology stands out from all other brands.
In 2009 we invested in a Metso Lindemann 800T side squeeze shear.  This particular machine was the first of Lindemanns new generation LUC shears to be put into operation anywhere in the world.  The Luc was specially designed to process production volumes with minimum energy consumption and costs.  The shear has a maximum 800mm throat and we can digitally control the size of the product, which means we can tailor the scrap to suit individual customers requirements.  The shear produces a very dense product and is capable of processing 15 / 25T per hour.
This precise control gives us not only a very dense product but also a very consistent product.  In practise this means every 20ft container we load has a minimum 26T to maximum 28.280T, the containers maximum capacity.  A dense consistent load in the container is also a dense consistent load in the furnace.
Scrap 360° Excavators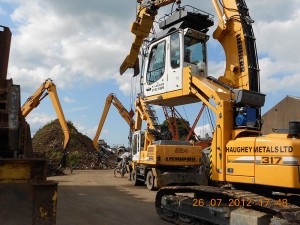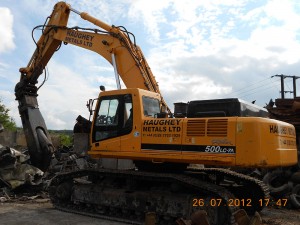 Over the years we have invested heavily in machinery to aid the sorting, loading and unloading of scrap metal.  We have a fleet of Liebherr manufactured machines all with 360° excavators with elevating cabs.  This fleet allows us to complete daily operations in the yard and for demolition work to be carried our throughout the country.
We also have Hyundai machines, which we use mainly in the demolition sector of our company.  The Hyundai's are fitted with specialised mobile shears, which cuts a variety of materials. We also use the shears to cut sections from obsolete fishing trawlers to allow for easier loading from the ports.
De-pollution Equipment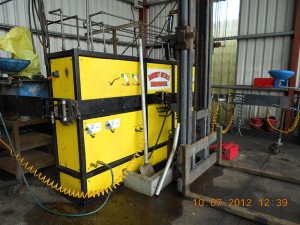 Haughey Metals Ltd is committed to reducing the effects of hazardous substances on our natural environment.  We are a fully licensed ELV (End of Life Vehicles) site and conform to EU legislation.
At Haughey Metals Ltd we have devised a de-polluter to remove toxins from all cars before they enter the recycling process.  All diesel / petrol, antifreeze, coolant, and all other fluids are drained from the cars and kept in a bunded tank for safe storage.  The car battery is removed, the catalytic converter is detached and car looms and all wiring is removed prior to recycling.
Haughey Metals Ltd has also designed and manufactured a mobile de-pollution unit which allows all oversize plant to de de-polluted anywhere in the yard.  The easy lifting unit is versatile and easy to operate. This piece of machinery is very important for achieving our environmentally friendly targets allowing all larger items of machinery to become hazard free as they sit.  It also allows staff to dismantle and shear the machinery without contaminating other metals.
Fleet of Lorries & Trailers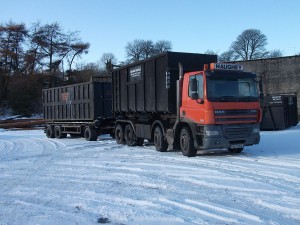 As Haughey Metals Ltd collects scrap metal and obsolete machinery throughout Ireland it is imperative that we have reliable trucks and trailers to facilitate this operation.  We always aim to provide the best service in the business and arrange trucks and trailers to suit the individual needs of the customer.
We have a fleet of rigid 8 wheeler vehicles complete with hook lifting gear to facilitate lifting our ro-ro bins.  We have rigid 8 wheelers with grab attachments to allow collection of scrap metal on site. Artic Units allow us to collect oversize pieces of scrap using our 65 Cu M trailers.
Skip service
Haughey Metals Ltd provides a skip services throughout Ireland.  We can provide one or multiple skips as per our customer requirements.  On long distance jobs we can collect two skips at one time using our drag trailers, this greatly reduces costs and our environmental footprint.
Exporting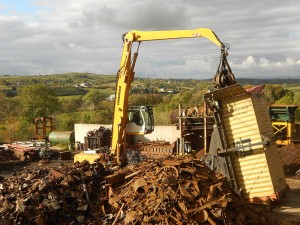 Containers
8 years ago Haughey Metals Ltd was the first company in Ireland to install a container-tilting machine, which facilitates the loading of 20ft shipping containers with scrap.  With this loading system and our dense product we are achieving on average over 97% of the containers carrying capacity.  This gives great economic benefits to everyone and lowers the products carbon footprint.
After extensive research abroad we have developed good working relationships with many end user and traders throughout the world and secured markets for our scrap in Spain, India, Vietnam and Indonesia.  The scrap is dispatched from our yard to ports in these countries via Belfast or Dublin.  The customers are a mixture of metal traders and steel mills.  At the present time most of our sales stem from repeat business.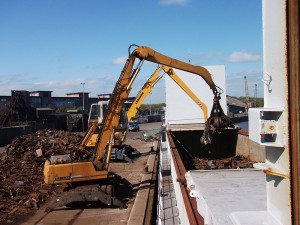 Bulk Shipments
Haughey Metals Ltd has also used their contacts in the scrap recycling industry to export bulk ferrous metals products.  In the past we have sold bulk shipments to Spanish steel mills.